Sales Hotline Mon-Fri 8am-7pm,
Sat 9am-6pm & Sun 10am-4pm
Visit Our Stores: Chelmsford Pianos - Baddow Used Pianos - Baddow Guitars/Folk/Orchestral - Southend Pianos - Colchester Pianos
Branches
Sales Hotline Open Mon-Sat 8am-6pm & Sun 10am-4pm
Branches
Allegro Music Great Baddow
Allegro Music Piano & Keyboard Centre Great Baddow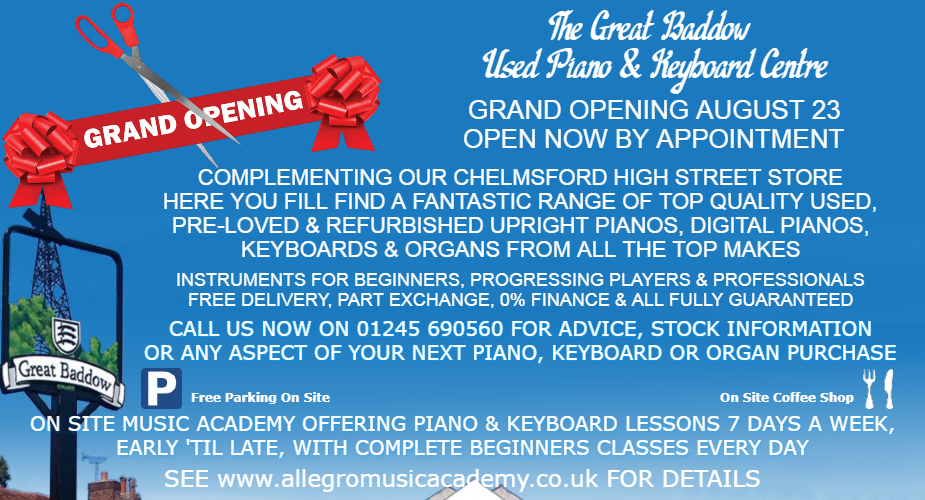 The Great Baddow Used Piano & Keyboard Centre - Grand Opening August 2023, Open now by Appointment.
Complementing our Chelmsford High Street Piano & Keyboard Store, here you'll find a fantastic range of Top Quality Used, Pre-Loved & Refurbished Upright Pianos, Digital Pianos, Keyboards & Organs from all the Top Makes.
Instruments for Beginners, Progressing Players & Professionals - Free Delivery, Part Exchange, 0% Finance & All Fully Guaranteed.
Call us now on 01245 690560 for Advice, Stock Information or any aspect of your next Piano, Keyboard or Organ purchase.
On site Music Academy offering Piano & Keyboard lessons 7 Days a Week, Early 'til Late, with Complete Beginners classes every day. See www.allegromusicacademy.co.uk for more details.
Alternatively, fill out the short form below with any questions, and we will get back to you as soon as possible.