Sales Hotline Open Mon-Fri 8am-8pm,
Sat 9am-6pm & Sun 10am-4pm
Best Prices, Best Products, Best Service For Over 40 Years
Branches
Sales Hotline Open Mon-Sat 8am-6pm & Sun 10am-4pm
Branches
Instrument Repairs & Service


From a simple re string, to a full set up or fret dress, our in house Luthiers are able to offer advice and quality assured work that will return your trusty steed to its former glory.
Our luthiers have been working on guitars for over 15 years and is take great pride in their work and personal service.
By bringing your guitar to Allegro Music you will have the confidence of dealing with a specialised business that has been serving the needs of musicians across Essex for over 35 years.

"Needed a complete overhaul on my Strat, great job done by Jaques, happy to recommend these guys" Tim Brent, Hockley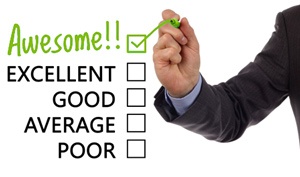 "Just had a Fishman Infinity fitted to my Acoustic, sounds great, might even treat myself to that Fishman amp, cheers for the work" Mr T Graham, Westcliff
"Had to return a recently purchased Tanglewood TW145 with a fault, expecting it to have to be sent back to the supplier, I got a call later the same day to say all done and ready to collect - great service" Amanda, Rayleigh
"Nice to find a local repairer. Was able to drop off on a Sunday with parking right outside, nice people, and ended up buying a new tuner while there" Bob Terry
Click here to read more customer reviews of Allegro Music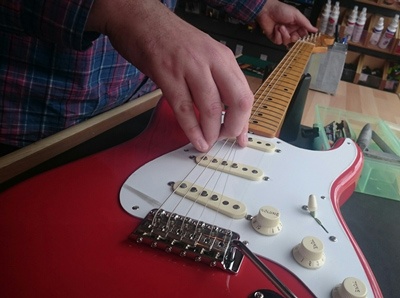 Having a great guitar setup improves the playability & functionality of your guitar. In some cases guitars are not set up properly either by the distributor or music shop and getting your guitar professionally setup is a very noticeable and inexpensive way of getting the most out of your guitar.
If you have any specific requirements for setting up your guitar, i.e. action or string gauges we will set up your guitar accordingly. However if you are unsure of how you want your guitar setup or even what string gauge you prefer then we can offer you assistance with finding the right set up for you.
Pro Guitar Setup includes - Action adjustment, truss rod adjustment, adjust the Intonation for 100% accuracy, clean & oil the fret board, fret polish, buff & polish your guitar. With electric guitars all switches & pots are cleaned, acoustics are humidified if necessary.



A fret dress is necessary if your Electric or Acoustic guitar, has flattened frets from years of playing, flat spots on certain frets and from buzzing that is not related to any other issues, determined during our evaluation. Worn frets not only can cause buzzing but can also create intonation problems.
The neck on your Guitar will be adjusted to be as straight as possible on a fretting jig, then we will level the frets and round the frets in using a diamond fret file. Lastly we will sand & polish up the frets, treat the neck, Re String and set up your guitar as per your instructions or to a standard industry specification.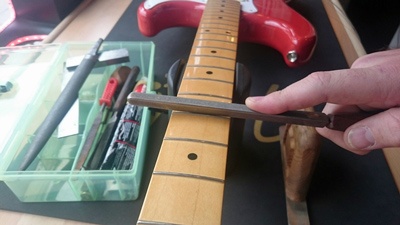 A fret job, Acoustic or Electric, is necessary when there is just not enough fret wire left for us to level & round in the frets, determined during our evaluation.
When a fret job is necessary, we pull out your old frets, adjust the neck to be as straight as possible, level the fret board, replace the frets either on a like for like basis or with a pre determined fret wire, fret dress the new frets, Re String and set up your guitar.



The best way to increase the tone of either your Electric or Acoustic is to replace the nut to bone. Bone is a far superior material for transferring Tone and is much denser than any plastics used, allowing the frequencies to travel faster therefore creating a better tone. Graphite is also a great alternative and is especially good for guitars with tremolo systems due to less friction in the nut.
The more noticeable change when changing to Bone is heard acoustically as well as creating more sustain.
We will take out your old Nut, cut & sand you a new one from a bone blank, file in the strings slots, back file the Nut and then restring your guitar.



If you h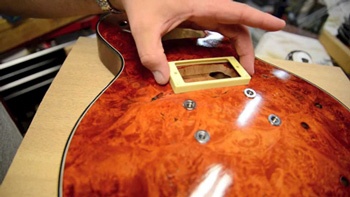 ave any problems with your electric hardware from static interference, volume or tone pots not working to wanting to replace/upgrade pick ups then we can cater for any these requirements.
Electric Pickup Replacement - Output Jack Replacement - Selector Switch Replacement - Pot Replacement - Complete Rewiring incl Pickups, Switch & Pots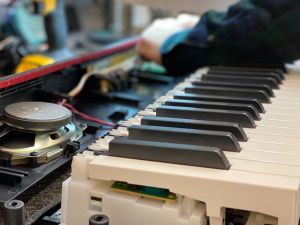 If you need a repair carrying out on a Digital Piano, Keyboard, Organ, Amp or most other electronic musical instruments, we are able to recommend a range of experienced engineers/repairers in the Essex area.
See below for details of local experts that can help you with your repair.
WD Greenhill, Southend: Digital Pianos/Organs/Keyboards/Synths - 01702 546195 (Covers all of Essex & most of the UK)
Essex Amp Repairs, Witham: Amplifiers - 01376 502160
Electronic Music Services, Southend: Keyboards, Digital Pianos & most electronic instruments - 01702 613172
Sick Amps, Harlow: Amplifiers, Digital Pianos, Keyboards & many other electrionic instruments - 01279 261261
If you have purchased your instrument from Allegro Music and it is still under guarantee, please fill out this form and we will contact you to arrange your repair.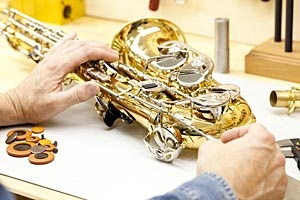 We are able to arrange anything from repairing a simple leak to a full overhaul and clean. Our highly experienced technicians will remedy your instruments fault and get it back to playing order.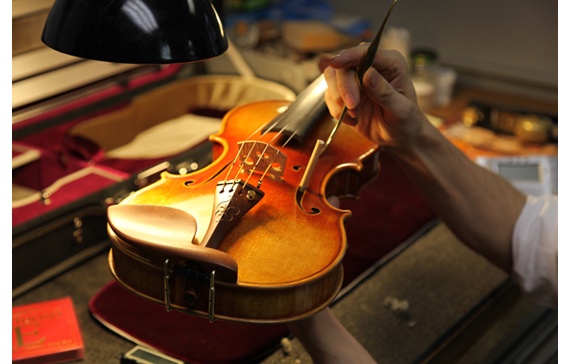 We can carry out most basic repairs to Violins and String Instruments instore including bridge fitting, tuning peg replacement and restrings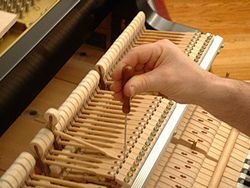 The cost of tuning your piano will depend on your location, and the amount of work required to correctly tune it, with £50-60 being an average cost for a single tuning.
Local Tuners
Lara Clapp 01245 697130 / 07743 544780 - Covers most of Essex