Sales Hotline Open Mon-Sat 8am-6pm
& Sun 9am-3pm
Best Prices, Best Products, Best Service For Over 40 Years
Branches
Sales Hotline Open Mon-Sat 8am-6pm & Sun 9am-3pm
Branches
Buy Sheet Music
Clavinova CLP-600 Series & Smart Pianist Handbook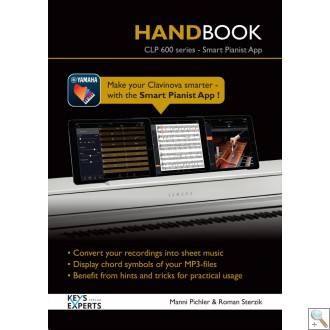 Overview
Specification
Videos
Overview
So you have a Yamaha Clavinova – one of the best digital pianos you can buy – but what now? Maybe you've been told you can connect up your iPhone or iPad, but why? This book answers those questions and more as it guides you through how to easily unlock a world of possibilities in your Yamaha CLP-600 series Clavinova.
Specification
Videos
Reviews for Clavinova CLP-600 Series & Smart Pianist Handbook
8th March, 2019





After reading book 1, it was certain that I had to buy book 2. Yet again these fabulous books deliver. There is so much to learn from them. As in book 1, everything is explained very well with photos.
These are a must for Genos owners.
19th March, 2019





Great book. I already have a very good understanding of the genos, however really needed some more advance tuition on certain topics. Found this book incredibly useful, actually learnt more than I imagined. I hear that book 3 is due? Please let me know when this is available. Thank you. Mr M Laing.