Sales Hotline Mon-Fri 8am-7pm,
Sat 9am-6pm & Sun 10am-4pm
Visit Our Stores: Chelmsford Pianos - Baddow Used Pianos - Baddow Guitars/Folk/Orchestral - Southend Pianos - Colchester Pianos
Branches
Sales Hotline Open Mon-Sat 8am-6pm & Sun 10am-4pm
Branches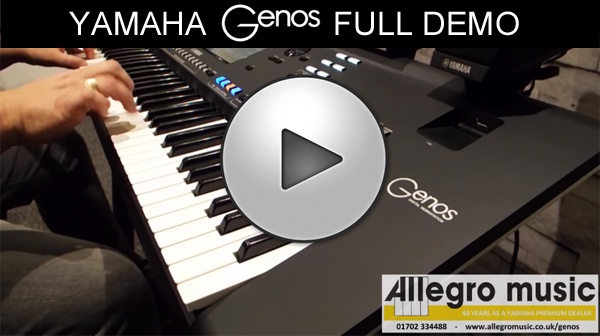 The Yamaha Genos is now finding itself in homes, studios and stages across the world, with players of all musical genres beginning to see and hear the incredible power and diversity of the next generation of top range Yamaha arranger keyboards.
With nearly 40 years experience of selling, servicing and teaching people to play Yamaha keyboard products, Allegro Music are confident we can give you the very best service, before, during and after your Yamaha Genos keyboard purchase. Whether you are 5, 50 or 500 miles away from us, we will be privileged to be your Genos supplier and have all the tools and expertise in place to ensure all goes to plan.
If you're a little unsure about placing an order from a dealer that is a little distance from you, take a look at our Genos charter, or read our reviews, where we hope to give you all the confidence and reassurance that dealing with an "MIA Trusted Music Store" of over 40 years brings. Whether it's an upgrade from your current instrument, or a great P/X deal, we can help, and if you should get offered a better deal that we can't beat or match, we will even give you one of our exclusive "Genos Accessory Cases" as a goodwill gesture.





For more detailed information on Yamaha Genos, downlaod the manual here.
Please add the main product to basket first.