Sales Hotline Mon-Fri 8am-7pm,
Sat 9am-6pm & Sun 10am-4pm
Visit Our Stores: Chelmsford Pianos - Baddow Used Pianos - Baddow Guitars/Folk/Orchestral - Southend Pianos - Colchester Pianos
Branches
Sales Hotline Open Mon-Sat 8am-6pm & Sun 10am-4pm
Branches
Yamaha CVP809 Polished Ebony Digital Piano Display Model
See below for FREE extras & services with this product
Free delivery to most mainland UK postcodes on a pre booked day and time
Direct contact with our premium delivery team throughout
Your CVP800 Piano will be assembled & carefully installed by a highly experienced specialist piano team
5 Year* Yamaha warranty ensures your CVP800 piano will be repaired by a professional engineer in the unlikely event of a fault occurring. *Applicable when registered with Yamaha.
3 Months Premium Access to Yamaha Flowkey
50 Greats For The Piano Songbook
Mains Power Supply
Owners Manuals
Part exchange your current instrument and receive a fantastic allowance against your chosen CVP800 piano - We will take Digital Pianos, Acoustic Pianos, Keyboards, Organs and almost any other musical instrument
If you have a Part Exchange, our team will collect your instrument
Spread the cost - Up to 48 months Low Rate Finance with a minimum 10% deposit (19.9% APR)
Technical Helpline Support
Smart Pianist app - display the chords for songs stored in your iOS device
Online Exclusive, May Not Be Available In Store - Call 01702 334488 to check
Overview
Specification
Videos
Compatible Apps
Overview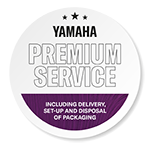 In our Premium Delivery, Assembly & Installation option, we deliver all CVP800 models fully assembled, install in your chosen location and remove all packaging and any part exchange model with our own professional delivery team. Your Piano delivery will be arranged personally and delivered on a convenient day and time through direct contact with a member of our team. Click here for delivery information.
This product is sold in the name and on behalf of Yamaha Music Europe and the general terms of Yamaha as well as the Data protection information will be applicable.
Please Note: 0% finance is not available on this product.
Delivery of in stock with Yamaha items is normally within 14 days, we will inform you straight away of any delays to this time frame.
Yamaha-General-Conditions-of-Sale-UK.pdf
Allegro Music have branches across Essex, in Chelmsford, Great Baddow, Southend on Sea and Colchester. We have been established for over 45 years and are one of the biggest Digital Piano, Acoustic Piano, Keyboard and Organ stores in the UK, offering a massive range of instruments. To make your purchase hassle free, we offer Free UK delivery on most models, an attractive Part Exchange scheme and 0% Finance on many instruments. We have a team of Piano, Keyboard and Organ product specialists on hand to offer help and advice with any aspect of your purchase. Allegro Music is a Yamaha Clavinova main dealer offering almost every model of Digital Piano and Keyboard Yamaha produce, alongside a range of quality fully guaranteed used instruments. Once you have your new instrument we can also teach you how to play it, with lessons taking place in our "Allegro Music Academy'' 7 days a week from early 'til late, with CRB checked teachers offering individual and class lessons on Piano & Keyboard, plus a wide range of other instruments. If you have any questions, please email us here, or call us on 01702 334488.
You'll feel the difference from the very first notes you play. Realistic touch and response, paired with the unmistakable tone of the finest concert grand pianos ever made, the Clavinova CVP-809 delivers expressive capabilities and a dynamic range that redefines the standard for digital pianos
today.
Key Features
• Linear GrandTouch Keyboard with Counterweights. Wooden white keys with synthetic ebony and ivory
• Piano sounds from both the Yamaha CFX and Bösendorfer Imperial concert grands further enhanced with unique Virtual Resonance Modelling (VRM) technology
• The finest selection of instrument sounds available including Super Articulation 2 Voices
• 675 interactive backing bands incorporating Revo Drums technology for ultimate realism
• Advanced pedal control with a GP Response Damper Pedal
• Incredibly easy to use thanks to a large 8" colour touch screen
• Gorgeous cabinet with chrome trim - available in black, polished ebony or polished white
• Advanced 7 speaker audio system with spruce cone speakers and twisted flare bass port
Piano Performance & Feel
CVP-809 features a broad array of piano sounds including those of two of the world's finest concert grand pianos: The Yamaha CFX and Bösendorfer Imperial.
Yamaha's flagship 9' concert grand piano, the CFX, offers sparkling highs and a powerful resonant bass with a sound that projects to the furthest reaches of any concert hall. The CFX was played by the winner of the prestigious International Chopin Competition in 2010, and has since gained recognition as one of the greatest concert grands of modern times.
Originally founded in 1828, Bösendorfer holds a unique position amongst piano makers as the only manufacturer in the world still utilises the Viennese tradition of hand-crafted design that produces the uniquely warm bass, singing treble and rich tonal colours known as the "Viennese Sound". The development of Bösendorfer pianos has been influenced by such famed composers as Brahms and Johann Strauss, resulting in an instrument lauded as the only piano capable of withstanding the frenetic playing of Franz Liszt.
Every key has been sampled individually, and thanks to binaural sampling techniques, the CVP Series provides a fully immersive concert grand piano experience, even when using headphones.
This superb sound has been paired with the GrandTouch keyboard, which allows pianists to play with nuanced dynamics through the entire range of the instrument, and faithfully reproduces the individual differences in the weight and return of each key.
CVP-809 and CVP-809GP also feature counterweights for a superb touch very similar to that of a grand piano, with the subtle delicacy required for pianissimo performance.
Instruments Reproduced in Perfect Detail
From breathy saxophones to ringing guitars and warm, resonant strings, the CVP Series features an impressive collection of natural instrument Voices. Thanks to acclaimed Super Articulation technology, the distinctive characteristics of each instrument are reproduced in incredible detail as you play.
The flagship model CVP-809 / 809GP in particular features all-new samples for instruments such as electric piano, strings, guitar, bass, and drums, delivering sound quality that has to be heard to
be believed.
Dive into the band experience
Featuring a wide array of backing Styles, the CVP Series allows you to enjoy great-sounding performances with polished introductions and endings, delivering authentic accompaniments that will enhance your playing across a diverse range of musical genres. In the CVP-800 Series, these accompaniments come with dramatically improved sounds, enriching your performances.
The CVP-800 Series boasts astonishing spatial acoustics and ensemble functionality so realistic that you can almost feel the presence of the other performers around you.
Subtle Variations for enhanced authenticity
Distorted guitars, rotary speaker organs, ethereal strings... this CVP delivers on all fronts, with unprecedented levels of realism. It reproduces the subtle variations that occur when even the most skilled drummer plays, so that you feel just like you're performing with a human drummer in a live
Sing with Clavinova
Connect a microphone to your Clavinova and enjoy fun and inspiring Karaoke features. The CVP Series can mute the vocals of songs from your audio music library, and you can view song lyrics* on the LCD screen and change the tempo and pitch of the songs themselves. The CVP-800 Series will even add natural harmonies to your voice as you sing.
* Lyric display is only available when the audio contains the lyric data
Voice Guide
If you want it to, the Clavinova will even talk to you!
When Voice Guide* is active, the Clavinova will "speak" the information on the current display or what buttons are pressed. This allows those who have visual impairments to enjoy playing and using the instrument.
*When using Voice Guide, make sure that the USB flash memory containing the Voice Guide files is connected to the instrument. The audible information of the functions/screen supported by the Voice Guide is limited.
Built in Bluetooth Audio
Play along with your favourite music using the built-in Bluetooth interface, or just enjoy listening through the CVP high-quality speakers.
Further downloads
New firmware, MIDI drivers, Owners & Reference Manuals alongside full data lists are available from the following link:
https://uk.yamaha.com/en/products/musical_instruments/pianos/clavinova/cvp-
809/downloads.html
This product is sold in the name and on behalf of Yamaha Music Europe and the general terms of Yamaha as well as the Data protection information
will be applicable. Yamaha General Terms and Yamaha Data Protection Information can be found at: yamaha.io/2MH7Ehc and yamaha.io/33Bwkyz.
Specification
General

Manufacturer

Yamaha

Model

CVP809

Finish

Polished Ebony

Keyboard

Number of Keys

88

Type

GrandTouch™ Keyboard: wooden keys (white only), synthetic ebony and ivory key tops, escapement

Touch Sensitivity

Hard2, Hard1, Medium, Soft1, Soft2

88-key Linear Graded Hammers

Yes

Counterweight

Yes

Pedal

Number of Pedals

3

Half Pedal

Yes

Functions

Sustain, Sostenuto, Soft, Glide, Song Play/Pause, Style Start/Stop, Volume, etc.

GP Response Damper Pedal

Yes

Display

Type

TFT Colour LCD

Size

9.0 inch (800 x 480 dots)

LCD Brightness

Yes

Touch Screen

Yes

Colour

Yes

Score Display Function

Yes

Lyrics Display Function

Yes

Text Viewer Function

Yes

Language

English, Japanese, German, French, Spanish, Italian

Panel

Language

English only

Cabinet

Key Cover Style

Folding

Music Rest

Yes

Music Clips

Yes

Voices / Tone Generation

Piano Sound

Yamaha CFX, Bösendorfer Imperial

Binaural Sampling

Yes (CFX Grand Voice only)

Key-off Samples

Yes

Smooth Release

Yes

VRM

Yes

Polyphony (Max.)

256

Number of Voices

1,605 Voices + 58 Drum/SFX Kits + 480 XG Voices

Featured Voices

17 VRM Voices, 36 Super Articulation 2 Voices, 301 Super Articulation Voices

Voice Edit

Yes

Compatibility

XG, GS (for Song playback), GM, GM2

Effects

Reverb

65 Preset + 30 User

Chorus

107 Preset + 30 User

Master Compressor

5 Preset + 30 User

Master EQ

5 Preset + 30 User

Part EQ

27 Parts

Intelligent Acoustic Control (IAC)

Yes

Stereophonic Optimizer

Yes

Insertion Effect

358 Preset + 30 User

Variation Effect

358 Preset + 30 User

Vocal Harmony

54 Preset + 60 User

Functions

Dual/Layers

Yes

Split

Yes

Accompaniment Styles

Number of Preset Styles

675

Fingering

Single Finger, Fingered, Fingered On Bass, Multi Finger, AI Fingered, Full Keyboard, AI Full Keyboard

Style Control

INTRO x 3, MAIN VARIATION x 4, FILL x 4, BREAK, ENDING x 3

Style Creator

Yes

Other Features

One Touch Setting (OTS)

4 for each Style

Chord Looper

Yes

Demo

Yes

Piano Room

Yes

Playlist

2,500 Records

File Format

Style File Format (SFF), Style File Format GE (SFF GE)

Compatible Data Format

Playback

SMF (Format 0 & 1), XF

Recording

SMF (Format 0)

Songs

Number of Preset Songs

50 Classics + 303 Lesson Songs + 50 Popular

Recording

Number of Tracks

16

Data Capacity

approx. 3 MB / Song

Recording Function

Yes

USB Audio Recorder

Playback

WAV (44.1kHz, 16bit, stereo), MP3 (MPEG-1 Audio Layer-3)

Recording

WAV (44.1kHz, 16bit, stereo), MP3 (MPEG-1 Audio Layer-3)

USB Audio

Time Stretch

Yes

Pitch Shift

Yes

Vocal Cancel

Yes

Registration

Number of Buttons

8

Control

Registration Sequence, Freeze

Lesson / Guide

Follow Lights, Any Key, Karao-Key, Your Tempo

Guide Lamp

Yes

Performance Assistant Technology (PAT)

Yes

Miscellaneous

Metronome

Yes

Tempo Range

5 - 500, Tap Tempo

Transpose

-12 - 0 - +12

Tuning

414.8 - 440 - 466.8 Hz (approx. 0.2 Hz increments)

Scale Type

9

Display Out

Yes (by using a commercially available USB display adaptor)

Bluetooth

Yes (Audio)

Storage

Internal Memory

approx. 2 GB

External Drives

USB Flash Drive

Connectivity

Headphones

Standard stereo phone jack (x2)

Microphone

Input Volume, Mic / Line In

MIDI

IN / OUT / THRU

AUX IN

Stereo mini

AUX OUT

L / L + R, R

AUX Pedal

Yes

USB TO DEVICE

Yes (x 2)

USB TO HOST

Yes

Amplifiers / Speakers

Amplifiers

(40W + 30W + 20W) x 2 + 80W

Speakers

(16cm + 5cm + 2.5cm (dome)) x 2 + 20cm, Spruce Cone Speaker, Twisted Flare Port

Power

Power Consumption

Power consumption is described on or near the name plate, which is at the bottom of the unit.

Dimensions / Weight

Width

1429mm (56.3")

Height

872mm (34.3")

Depth

612mm (24.1")

Weight

84kg (185 lb, 3 oz)
Videos
Reviews for Yamaha CVP809 Polished Ebony Digital Piano Display Model
There are currently no reviews for this product.
Please add the main product to basket first.