Sales Hotline Mon-Fri 8am-7pm,
Sat 9am-6pm & Sun 10am-4pm
Visit Our Stores: Chelmsford Pianos - Baddow Used Pianos - Baddow Guitars/Folk/Orchestral - Southend Pianos - Colchester Pianos
Branches
Sales Hotline Open Mon-Sat 8am-6pm & Sun 10am-4pm
Branches
Yamaha CLP785 Black Walnut Digital Piano
See below for FREE extras & services with this product
Free delivery to most mainland UK postcodes on a pre booked day and time
Direct contact with our premium delivery team throughout
Your CLP700 Series Piano will be assembled & carefully installed by a highly experienced specialist piano team
5 Year* Yamaha warranty ensures your CLP700 series piano will be repaired by a professional engineer in the unlikely event of a fault occurring. *Applicable when registered with Yamaha.
3 Months Premium Access to Yamaha Flowkey
50 Greats For The Piano Songbook
Mains Power Supply
Owners Manuals
Part exchange your current instrument and receive a fantastic allowance against your chosen CLP700 series piano - We will take Digital Pianos, Acoustic Pianos, Keyboards, Organs and almost any other musical instrument
If you have a Part Exchange, our team will collect your instrument
Spread the cost - Up to 48 months Low Rate Finance with a minimum 10% deposit (19.9% APR)
Technical Helpline Support
Smart Pianist app - display the chords for songs stored in your iOS device
Online Exclusive, May Not Be Available In Store - Call 01702 334488 to check
Overview
Specification
Videos
Compatible Apps
Overview

If you're ready to order, Click Here, and we will send you a link to get your unique Yamaha £200 Discount Code and details of how to redeem it. Alternatively, if you have a Part Exchange, need Finance or have any questions, Click Here to let us know your requirements, or call us on 01702 334488 & we will get back to you shortly.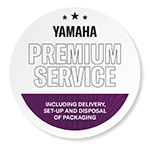 In our Premium Delivery, Assembly & Installation option, we deliver all CLP785/795GP models fully assembled, install in your chosen location and remove all packaging and any part exchange model with our own professional delivery team. Your Piano delivery will be arranged personally and delivered on a convenient day and time through direct contact with a member of our team. Click here for delivery information.
This product is sold in the name and on behalf of Yamaha Music Europe and the general terms of Yamaha as well as the Data protection information will be applicable.
Please Note: 0% finance is not available on this product
Delivery of in stock with Yamaha items is normally within 14 days, we will inform you straight away of any delays to this time frame.
Yamaha-General-Conditions-of-Sale-UK.pdf
Allegro Music have branches across Essex, in Chelmsford, Great Baddow, Southend on Sea and Colchester. We have been established for over 45 years and are one of the biggest Digital Piano, Acoustic Piano, Keyboard and Organ stores in the UK, offering a massive range of instruments. To make your purchase hassle free, we offer Free UK delivery on most models, an attractive Part Exchange scheme and 0% Finance on many instruments. We have a team of Piano, Keyboard and Organ product specialists on hand to offer help and advice with any aspect of your purchase. Allegro Music is a Yamaha Clavinova main dealer offering almost every model of Digital Piano and Keyboard Yamaha produce, alongside a range of quality fully guaranteed used instruments. Once you have your new instrument we can also teach you how to play it, with lessons taking place in our "Allegro Music Academy'' 7 days a week from early 'til late, with CRB checked teachers offering individual and class lessons on Piano & Keyboard, plus a wide range of other instruments. If you have any questions, please email us here, or call us on 01702 334488.
The Allure of the CLP-700 Series
The CLP Series of digital pianos utilizes cutting-edge technology to recreate the experience of performing on a grand piano, allowing the pianist to play the keys with many variations of speed and depth to achieve an unlimited variation in tone and create uniquely personal performances. With expressive capabilities approaching those of a grand piano, the CLP-700 Series is sure to make playing the piano so much more enjoyable than ever before.
Convenience Only Digital Pianos Can Deliver
Clavinova pianos are loaded with convenient features only digital pianos can deliver. You can use headphones to keep your surroundings quiet, or connect a Bluetooth® device to your Clavinova for playback through its speakers. Also, connect to Yamaha's app, Smart Pianist, to gain extra help for your piano practice. The touch-sensitive control panel only displays text when it is on—when the panel is off, it has the smooth finish of a keyblock just like an acoustic piano.
Enjoy a dialogue with a great piano
The player plays, the piano responds, and the player continues to play. The player conveys the feelings they want to express, and the piano responds, in an ongoing exchange that forges a dialogue between the two. In order for this to be a truly rich exchange, both the player and the piano must possess excellent expressive capabilities; the piano must be easy to play and highly responsive, and it must produce beautiful sounds. CLP-700 Series pianos satisfy all of these conditions, and the inspiration borne from a dialog with it is sure to arouse your desire for expression.
Playability
GrandTouch™ keyboard
Yamaha's latest keyboard action features a broad dynamic range and faithful response to every nuance of touch that puts a wide expanse of tone—from delicate to bold—at the pianist's fingertips. The highly consistent grand piano hammers replicate the pleasing response felt when the hammers strike the strings, enabling precise control of the tone. Highly absorbent synthetic-ivory white keys and synthetic-ebony black keys prevent slipping even during extended play and feel just like those of a grand piano.
GrandTouch keyboard features wooden keys that showcase Yamaha's expertise with wood for pianos. Just as with grand piano keyboards, the solid wood is cut from the very best parts of well-dried lumber, making the keys more resistant to warping than keyboards made of laminated wood. The wooden texture and structure of the keys create a more grand piano-like feel.
Sensitivity
Grand Expression Modeling
The interaction and interplay of the hammers, dampers, and strings inside a grand piano respond to the subtlest nuances of the pianist's touch, creating a limitless range of tonal expression. Touch refers to the pianist's control, not only of intensity (softness/loudness) in playing and releasing the keys, but also of the speed and depth with which the keys are pressed. The Grand Expression Modeling introduced in the CLP-700 Series translates the widely varied input from the pianist's fingers into the same limitless tonal variation of a grand piano.
This makes it possible to vary the output by playing the keys to different depths and with different speeds, even when using techniques such as trills or legato or emphasizing the melody over the accompaniment. Grand Expression Modeling excels at faithfully reproducing the output expected of these techniques in many well-known songs. In Debussy's "Clair de Lune," a loose touch creates the faint tone that makes the melody stand out more crisply. In Liszt's "Un Sospiro," the accompanying arpeggios accent the melody without overwhelming it, and varied expression of the melody gives it the same quality as vocals. In the last of the Chopin nocturnes, trills, legato, and other delicate techniques where fingers seem to float over the keys deliver the airy, smooth tonal expression required. Playing such pieces on a highly expressive piano helps the pianist learn various techniques and experience the same joy of expression as a painter, but through sound.
Sound Quality
Newly sampled Yamaha CFX and Bösendorfer Imperial voices
Clavinova grand piano sounds are recorded from several world-renowned concert grand pianos. One of them is the CFX, Yamaha's top-flight concert grand piano. Pianists around the world are enamored with the impressive, dazzling, richly expressive sound of the CFX in concert halls. Another sampled concert grand is the Imperial, the flagship model of Bösendorfer, a time-honored Viennese piano brand with an ardent following. The Imperial is known for its abundance of color and natural, warm feeling. Yamaha faithfully reproduces the idiosyncrasies of these concert grand pianos by carefully recording the entire tonal range of each of the 88 keys, making minute adjustments to capture the most harmonious tones each piano has to offer.
Specification
The flagship upright piano style model of the Clavinova CLP Series, featuring a counterweighted GrandTouch keyboard and the finest sound system in the series.
New Yamaha CFX and Bösendorfer Imperial piano samples, new Yamaha CFX and Bösendorfer binaural sampling
53 voices + 14 Drum/SFX Kits + 480 XG voices, including 4 fortepiano voices (Scarlatti Piano/Mozart Piano/Beethoven Piano/Chopin Piano)
Improved VRM (Virtual Resonance Modeling)
Grand Expression Modeling
GrandTouch™ keyboard with counterweights, 88-key Linear Graded Hammers
GP Response Damper Pedal
(50 W + 50 W + 50 W) x 2 amplifiers
Grand Acoustic Imaging
(16 cm + 8 cm + 2.5 cm (dome) + transducer) x 2 speaker system, Spruce Cone speaker
USB Audio Recorder (Playback/Recording: WAV)
20 rhythms
Built-in Bluetooth® audio
Wireless connection to the Smart Pianist app via Bluetooth® MIDI
Touch sensor control panel
For detailed specifications, please click here
Videos
Reviews for Yamaha CLP785 Black Walnut Digital Piano
There are currently no reviews for this product.
Please add the main product to basket first.