Sales Hotline Open Mon-Sat 8am-6pm
& Sun 10am-4pm
Best Prices, Best Products, Best Service For Over 40 Years
Branches
Sales Hotline Open Mon-Sat 8am-6pm & Sun 10am-4pm
Branches
Returns

Our returns policy and returns form is right here and designed to give you confidence in Allegro Music. We make it clear about what your rights are and will do everything we can to ensure you are happy with your whole experience.
You have the right to return goods purchased from our web site within 14 days from the day you received them.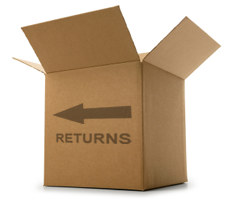 The goods being returned must be un-opened and in 'as new' condition, in the original packaging.
It is your responsibility to arrange and pay the cost of returning the goods, this must be via a reputable courier. Please note that we can arrange the collection and return of goods but the cost of the return carriage will be paid for by the customer in advance.
Allegro Music Ltd reserves the right to the right to charge a minimum fee of 15% in cases where the goods are not returned to us un-opened and in 'as new' condition.
We reserve the right to make a charge for items being returned that have been opened, updated, or modified for your personal requirements and may require time to return to a standard selling manner of up to 10% of the purchase price.
Before returning any item, you must complete a returns authorisation form, this can be done so below.
Items returned without authorisation will be rejected.
Refunds are made within 14 days.
Exceptions:
Large items that were delivered assembled will need to be returned via an equivalent form of transport.
Bespoke orders cannot be returned unless they are faulty
Items that involve being put to the mouth to play such as reeds, harmonicas etc.
Thank you for completing this form, a member of our customer service team will contact you shortly.