Open 7 days a week
Established over 35 years, in-store & online
Genos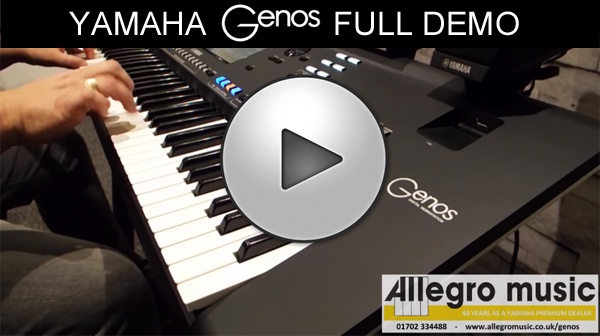 It's official, the new Yamaha Genos is now LIVE and having attended the world launch in Berlin, premium dealer Allegro Music were given the chance to order a massive Yamaha Genos shipment that is due anytime.
With nearly 40 years experience of selling, servicing and teaching people to play Yamaha keyboard products, Allegro Music are confident we can give you the very best service, before, during and after your Yamaha Genos keyboard purchase. Whether you are 5, 50 or 500 miles away from us, we will be privileged to be your Genos supplier and have all the tools and expertise in place to ensure all goes to plan. With lots more information and news to unveil in the coming days and weeks, we would like to take this opportunity to allow you to reserve your Yamaha Genos keyboard right now with a £99 fully refundable deposit.
If your a little unsure about placing an order, take a look at our Genos charter, where we hope to give you all the confidence and reassure that dealing with an "MIA Trusted Music Store" of over 40 years brings. Put simply, if you're in anyway unhappy with your Genos reservation, at any point, we will happily refund you in full, and if you should get offered a better deal that we can't beat or match, we will even give you one of our exclusive "Genos Accessory Cases" as a goodwill gesture.





For more detailed information on Yamaha Genos, downlaod the manual here.